<Media Appearance>
One of our serviced office, BUREX FIVE has been featured on Victor Entertainment web page.
The interview article is about the high resolution sound system called, KooNe which Victor produced, has been used in varied premises.
On the article, we spoke the back ground of how we collaborated our office concept "FIVE SENSES " with KooNe as well as how Space Design has been established in real estate industry. The content is in Japanese only yet worthwhile to read.
http://www.koone.jp/case/case5.html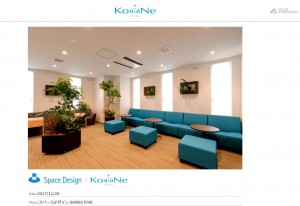 *************************************************
BUREX FIVE:
A new office space upon new concept of " Working with Luxury of FIVE Scenes ".
All of the functional office specs of address/ business registration, internet access ( Wi-Fi ), Communal photocopier, Reception desk, Regular fixed desk, Executive floor, Meeting spaces, Tenant lounge area, and Relaxation room ( Nap Room ) are available.
Our English speaking staff are here to assist business go global and efficient.
Minimum contract term one month and single person use.
Contact : Space Design call center
+81-3-3502-7777 / Domestic toll free: 0120-710-677